When I read Michelle Garcia Winner's book "Thinking About YOU, Thinking About ME," it had what I call, "a domino effect." It seemed like to the doors of Social Thinking had just opened for me and there was a whole new world to discover. During my discovery process I came across Audra Jensen's book "I Get It!" The book delivers exactly what it promises. It helps both the clinicians and the students understand important Social Thinking concepts that in theory seem abstract and difficult to define, but when used in context of familiar children's literature, suddenly make sense. I've always been a big proponent of using children's literature in therapy. I use it to build receptive language, vocabulary, grammar or syntax, speech articulation skills and also as a reinforcement. So the idea of using it to teach Social Thinking concepts seemed inevitable to me. Audra Jensen's book helped put it all together. She addresses the concepts such as "Body in the Group," "Expected/ Unexpected Behavior," "Flexible Brain," "Keeping Brain in the Group," as well as books that compliment the introduction and instruction of the Superflex curriculum. Superflex is a social skills super-hero (created by Stephanie Madrigal as a part of Michelle Garcia Winner's Social Thinking curriculum). He battles social villains, called the Unthinkables that disrupt good social behavior. Supplementing the Superflex curriculum with children's literature allows the child to comprehend the concepts as they relate to familiar characters.
For example, one of the books Audra Jenson recommends to teach "Expected/ Unexpected" behaviors is the very popular book, "No David!" by David Shannon. The book has excellent illustrations that make differentiating "expected" and "unexpected" behaviors easy and obvious. Audra also talks about how the book offers opportunities for children to analyze the behaviors and state why they are "unexpected" and what his mother is feeling when David engages in those behaviors.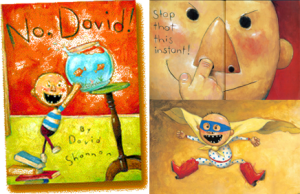 Putting a lesson together to teach the concept of "expected/ unexpected behaviors" using "No David!" would be fairly easy for most experienced clinicians. However, for me, having the resource list of children's books that teach specific Social Thinking concepts makes Audra Jensen's book an incredibly handy tool. An additional benefit of using children's literature as a tool is that lessons can be planned for individual (one-on-one sessions) as well as groups.