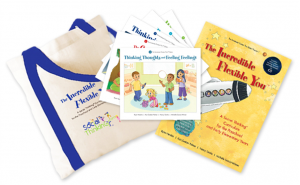 The area of language disorders that seemed to confound most therapists, including myself, for a long time was social skills or pragmatics. That was until I discovered Michelle Garcia Winner's work. When I read her book "Thinking About YOU, Thinking About ME," I finally felt relief. I started thinking about social skills in a completely different way that made sense. I realized that the reason my therapy tools didn't seem powerful or effective was because I was focusing on teaching specific skills (e.g. How to start a conversation) in a specific situation (e.g. When you meet your neighbor), rather than teaching social thinking or social cognition. As a clinician, when you teach a specific skill in an artificial environment, the student may do well to learn the skill. But the questions "What happens when the situation changes? Can my student generalize this skill to another environment?" always haunted me. The knowledge that you can build a child's perspective taking ability, or his ability to "listen with his whole body" to help him across situations and contexts, was my Eureka moment.
Collectively as service providers for pre-school or early elementary -aged children with social skill deficits, we seem to focus on grammar or vocabulary building. What I quickly realized was that the area of social skills seemed to persist in so many of the little ones I saw. Even when their speech is completely intelligible and the structure of their sentences and vocabulary seems appropriate, some how they continue to have difficulties interacting with peers and adults. It was clear to me that the missing piece of the puzzle was a program that worked on their social thinking skills. I am therefore very pleased and excited to offer Michelle Garcia Winner's new program "The Incredible Flexible You," a social thinking curriculum for preschool and early elementary years. This program uses Michelle Garcia Winner's social thinking model adapted for ages 4- 7 years using activities and materials that engage and excite the little ones. The program uses books, music and play based activities to target core concepts of social thinking such as Thinking Thoughts, Feeling Feelings, Whole Body Listening, Thinking with Your Eyes, the Group Plan and Body in a Group.
The beauty of the program is that it is a simple, kid-friendly and systematic curriculum to teach concepts and vocabulary that are usually challenging for preschool and elementary-aged children. It teaches children to "think social" rather than specific "social skills." It also includes letters for parents and families to keep them involved in the process to ensure carry-over.